Reading can take you to amazing places, introduce you to remarkable characters and open your eyes to new and exciting ideas, all by opening a book. For the 2017 Nassau County Teacher of the Year, Autumn Nicks, reading is more than just a subject she teaches her students, it is what she believes is one of the "most instrumental foundational skills that children need to be able to build a lifetime of success". "I love promoting literacy to students and families to show them that it's not just a graded subject, but the door to endless possibilities," said Nicks.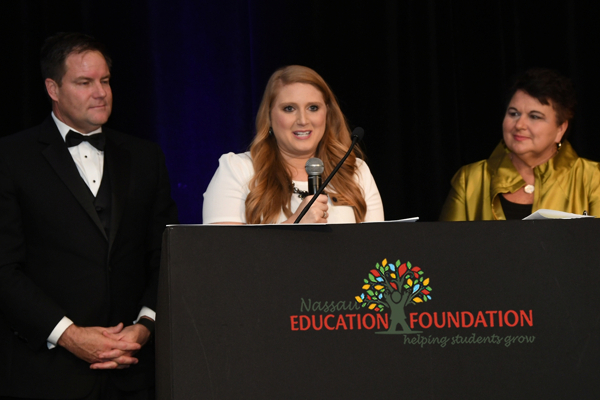 It is this passion and dedication to her students that earned Nicks, a third grade teacher at Callahan Intermediate, the award. She is in her fifth year of teaching and holds a Master's Degree in Early Childhood Education from Florida State University. In addition to teaching, Nicks is the reading planning team leader for the third grade team and serves as the reading committee chairperson for the school.
At the Nassau Education Foundation's third annual Teacher of the Year Gala, held Friday, January 13, 2017 at the Ritz-Carlton, Amelia Island, Florida Senator Aaron Bean, Superintendent Dr. Kathy Burns, Nassau County School Board Chair Donna Martin, and previous Nassau County Teacher of the Year, Carissa Bass, announced the selection of Nicks as the 2017 Nassau County Teacher of the Year. She will represent Nassau County in the selection process for the Florida Teacher of the Year.
Hosted by the Nassau Education Foundation, the gala serves as the Foundation's largest fundraiser. This year's event raised over $110,000. Since the Foundation's inception in 2015, the organization has awarded over $195,000 in grants to all fifteen schools throughout the district.
"The caliber of teachers in Nassau County is immeasurable and the dedication to our students is overwhelming," said Abby Bean, executive director for the Nassau Education Foundation. "We are grateful to our sponsors, donors and attendees for helping us to continue our mission and for making the evening a memorable one for our teachers."
According to Nicks, in third grade there is a focus on reading for a purpose with an emphasis on analyzing and dissecting text or a passage to dig for a deeper meaning and understanding. 'This often times can be very challenging for students, especially struggling readers," she said. "I know this and tell them that we will face the challenge head-on together. There is really no greater sight than when a child realizes they have accomplished a difficult task." Nicks said her pride in her students is for their dedication and perseverance as these are the feelings that build their confidence.
"I am overwhelmed with gratitude, honor and joy," said Nicks. "I am so thankful that I have been nominated and chosen to represent all the wonderful teachers of Nassau County."
In addition to Ms. Nicks, the other finalists include: Dianne Febles, Fernandina Beach High School; Janan Hodges, Callahan Elementary School; Lacey Lloyd, Hilliard Elementary School and Amanda Rau, Hilliard Middle Senior High School.
The additional ten school Teachers of the Year are: Maurice Jones, Yulee Middle School; Salena Hursey, Yulee Elementary School; Theresa Milligan, Bryceville Elementary School; Karol Siusta, West Nassau High School; Melinda Gelis, Southside Elementary School; Melissa Crews, Emma Love Hardee Elementary School; Rebecca Scarberry, Yulee High School; Deborah Lusardi, Callahan Middle School; Joshua Bozeman, Fernandina Beach Middle School and Nancy Cobb, Yulee Primary School.
The selection of the Nassau County Teacher of the Year is part of a state-wide program sponsored by the Florida Department of Education and Macy's of Florida. Locally, each school selects a nominee for the county-wide award and each of those nominees participates in an interview and submits a resume and two essay responses to professional questions. Based on scores for the interview and the essays, five finalists are identified and each is observed conducting a lesson with students. Following the observations of the five finalists, an overall county winner is selected and subsequently represents the district as a nominee for the Macy's Florida Teacher of the Year. Since 2006, Nassau County has had three state finalists and one state winner of the Florida Teacher of the Year.
Photo credit – Ken Morselander