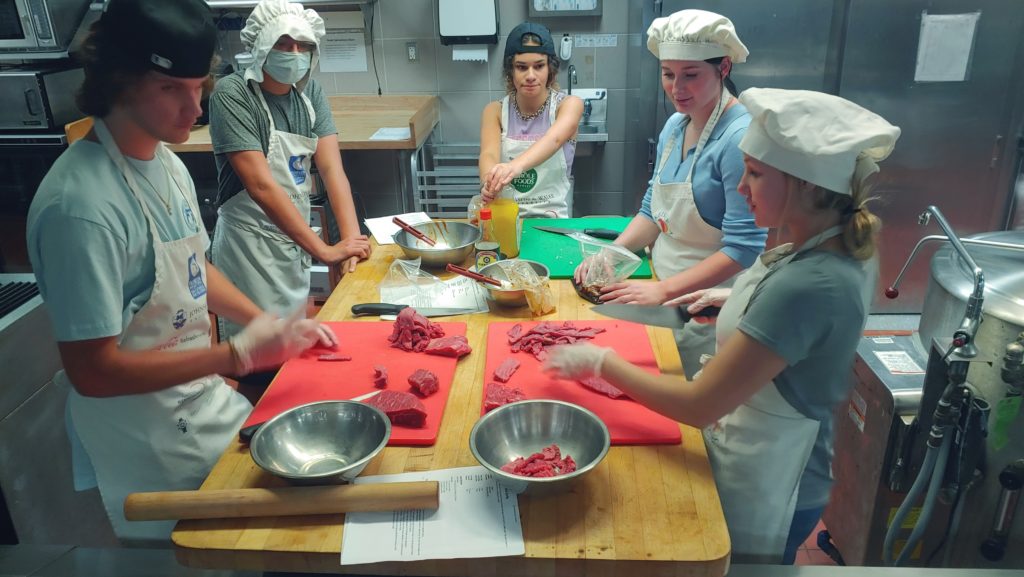 Each year, the Nassau Education Foundation is able to use matching funds on a 1:1 basis with the Consortium of Florida Education Foundations and each year the NEF board has chosen a career technical program to support. This belief in the importance of vocational education has helped to fund projects in nursing, construction, agriculture and business. This year, the Culinary Arts program at the Lewis "Red" Bean Nassau Technical Center was chosen. The program is taught by Chef Ian Kitch and Chef Georgia Kelly. Both of these chefs came to the district by way of the historic Greyfield Inn on Cumberland Island where Chef Kitch was the Executive Chef and Chef Kelly was the Head Pastry Chef.
The Culinary Arts program at the Bean center introduces students to a variety of skills. Students learn about basic food preparation, cooking techniques, knife skills, personal productivity, safety and sanitary work procedures, commercial tools, equipment, nutrition and work ethic. These skills are the foundation for a wide range of food service careers that are in demand in our local area, such as: Executive Chef, Restaurant Manager, Teacher, Research and Nutritional Chef, Food Editor or Stylist, and Banquet and Catering Director. In addition, students will be taught food safety and may obtain their industry certification (ServSafe Manager) during the program.
One of the best parts of the program according to students is catering events. This opportunity to be part of real-world culinary functions helps prepare students for employment and gain a valuable hands-on understanding of how the industry works. Recently, the NEF Board of Directors had their monthly meeting at the Technical Center with a luncheon provided by the Culinary Arts Department and Chefs Kitch and Kelly. The board was extremely impressed with the professionalism of the students and the quality of the food, and plan to return annually. Additionally, the Culinary Arts department donated a luncheon to the Live Auction of the NEF fundraising Gala to help raise funds for the foundation grant programs and to provide another venue for the students to gain experience in catering.