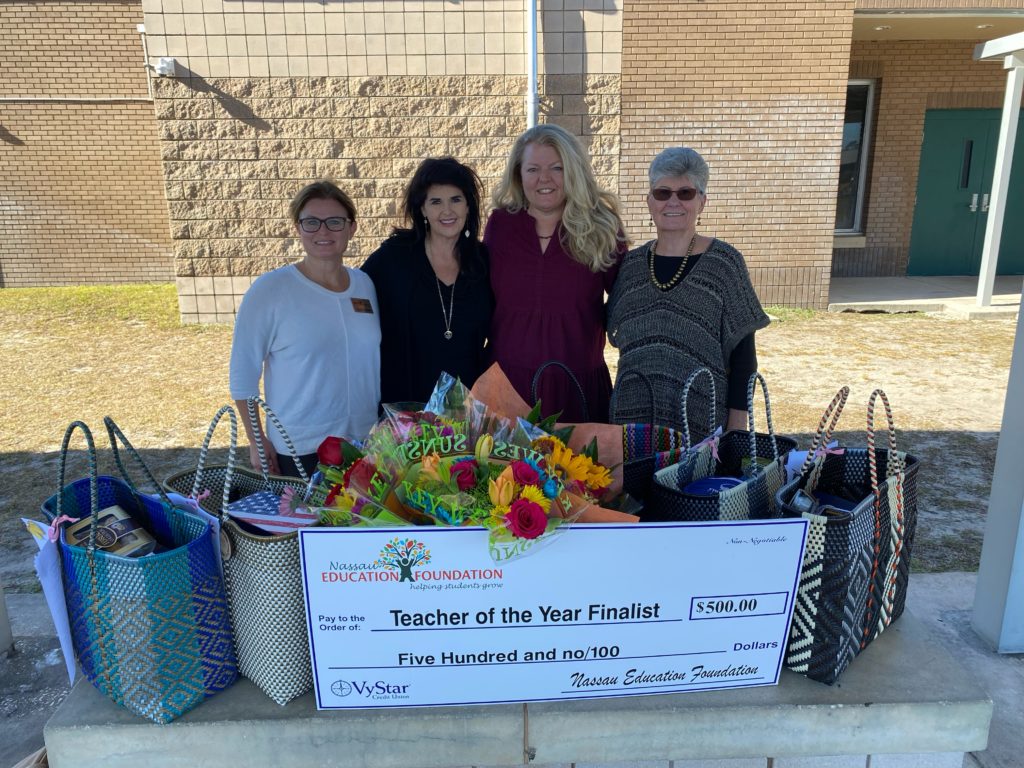 Last year during COVID, we weren't able to gather to hold a gala and came up with a fun way to honor the teachers. It became what Dr. Burns calls a "COVID Keeper." So on November 16, the Nassau Education Foundation Board and friends loaded a school bus with Superintendent Dr. Kathy Burns and traveled across the county to visit the classrooms of the five finalists for Nassau County Teacher of the Year. With the help of the school principals, NEF was able to surprise the finalists and present them with a large bag of gifts provided by businesses, individuals and community organizations that wanted to help us "Treat the Teachers!" Our own Board Member Kim Lunt once again led up the project and secured beautiful bags from Twisted Sisters.
Thank you to the many donors which include: Prime South Bank, Keiser University, Florida Public Utilities, Lagniappe Restaurant, Jackie Tyson of Miller Health Group and Teresa Anderson of The Bailey Group, Olive Amelia, Rayonier Advanced Materials, Amelia Island Coffee, Julie McGuinnes, Teresa Hunter, Senator Aaron Bean, First Port City Bank, Charter Communications and the Consortium of Florida Education Foundations!
The five finalists for Nassau County Teacher of the Year were selected from an outstanding group of 16 representing each Nassau County school. The five finalists were: Nicki Mattox, Southside Elementary School; Teresa Pinkstaff, Callahan Middle School; Missy Fancher, Wildlight Elementary School; Lindsey Pittman, Callahan Elementary School; and Shelby Goodwin, Yulee High School.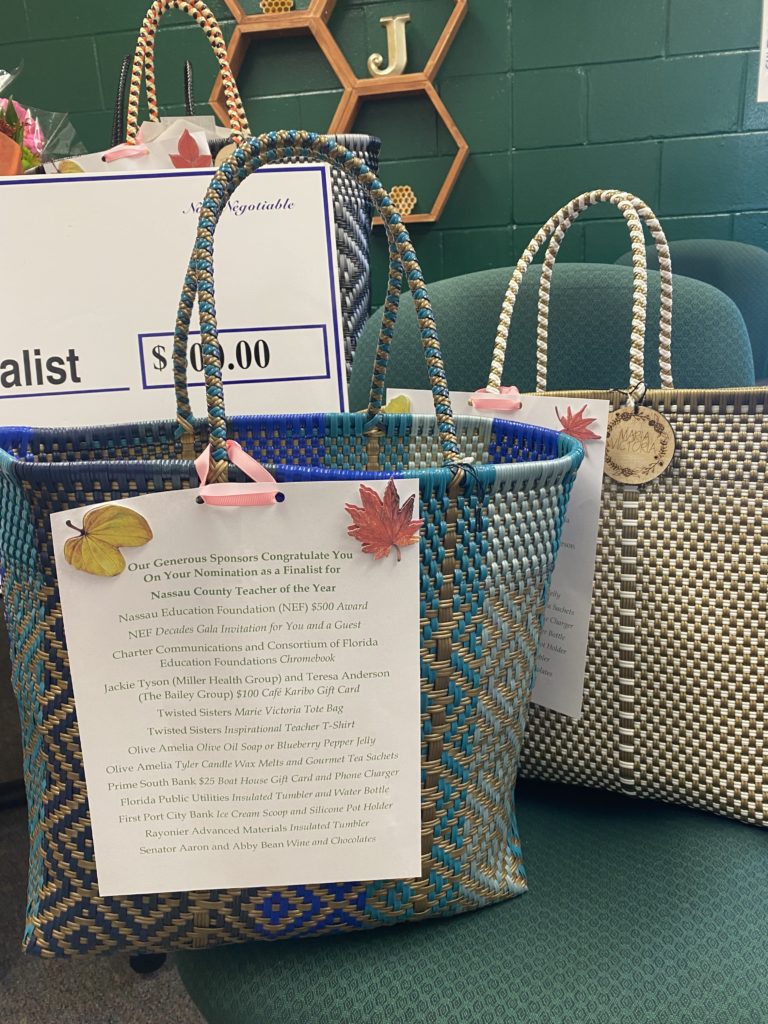 There are always so many great Teachers of the Year and this year was no exception. Additional teachers of the year for 2021-22 are: Jessica White, Bryceville Elementary School; Mackenzie Trujillo, Callahan Intermediate School; Cymmone Smith-Smiley, Emma Love Hardee Elementary School; Dr. Jim Glackin, Fernandina Beach High School; Ashley Morris, Fernandina Beach Middle School;Latasha Carter, Hilliard Elementary School; Alyson McCollough, Hilliard Middle-Senior High School; Richard Knott, West Nassau High School; Gloria Szubelak, Yulee Elementary School; Stephanie Rhodes, Yulee Middle School and Amanda Crowder, Yulee Primary School.